Product Description
The brake system is designed and developed by RB with decades of experience in high performance brake system to bring you the best value brake upgrade kit for your M3.
This combo kit comes with everything you need for an instant BBK while retaining stock calipers & pads.
This easy to install and affordable OE caliper BBK is the best value among all other upgrade, oversizing your front OE 1 piece rotor (320x25mm) to RB center mount 2 piece light weight big rotor (365x26mm); and rear 1 piece rotor (335x21mm) to RB center mount 2 piece light weight bit rotor (355x21mm)
Installation note:
This FRONT BBK adds about 26mm (~1") in radial height to the OE set up, so you must make sure your existing wheels have enough clearance 30mm (1-1/8") or acquire 19" wheels to install the kit.
Require to trim the dust shield to avoid interference with larger diameter rotor.
This REAR BBK is exclusively developed by RB for upgrading your rear rotors to 355mm (OE 335mm) with one piece extended bracket for an instant BBK (retaining OE calipers and pads)
**(Front are modified to suit bigger rotor, see below illustration)
Replacement rotor rings:
Pic below showing stock pad top overhang when installing with a larger rotor than stock, the OE pad may still be used but not recommended as not only it reduces the thermal capacity (reducing friction area), over the time the pad will develop a step on the top edge and shorten the life span of the brake pad.
Competition's BBK (Pad overhang):
Custom front pad (included in the kit) made for the oversized rotor for a proper top edge alignment just like OE.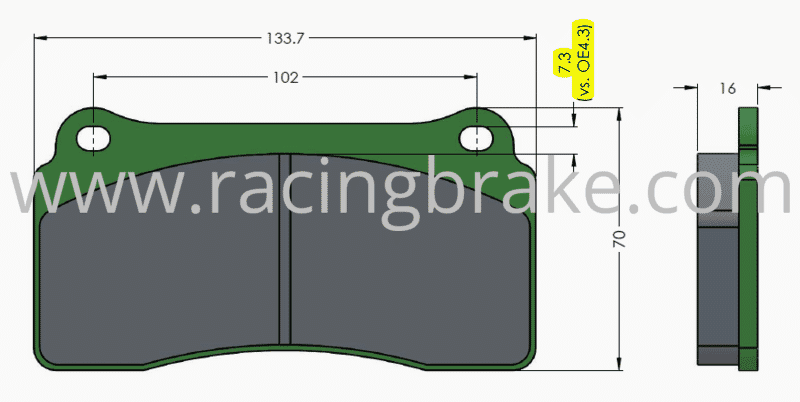 Forum discussion: RacingBrake or MPP BBK rotors only
Product Videos
Custom Field
Product Reviews